LeBron and Us
"It's about damn time."
What a telling statement.
I can't imagine what it must be like to be LeBron James. At 16 years old, making the cover of Sports Illustrated. Being told from that age that your destiny was to be one of the greatest basketball players of all time. Hearing your name mentioned in the same breath as all-time greats like Jordan, Magic, and Kobe. High school games so big that you're on ESPN. Games too big for your gym to hold, so you move to an arena downtown. Living a lifetime before you've even graduated high school.
And then…
The youngest player ever drafted #1 in the NBA. Playing ball in your home state. Entrusted to revive a moribund franchise that has had some bad breaks in a city that has seen worse breaks.
And you do it.
You dominate right out of the gate. First game as a pro is on national television. And you nail it. That year you double the Cavs win total but you miss the playoffs. But no one cares because, man, you are on your way. Nothing can stop you.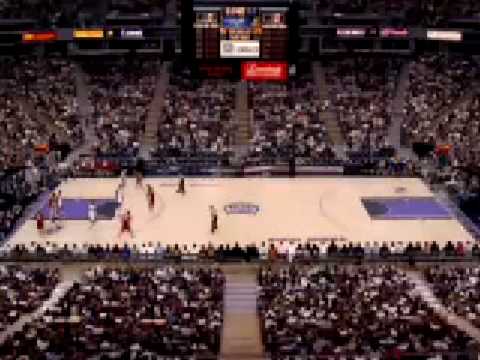 And it gets better from there. The Pistons stand in your way for a couple of years but pretty soon you drop the hammer on them. 25 points in a row, 29 of your team's last 30. Grown men shuddering and ducking out of the way because there's no good that can come from standing in your path. You take your team to the NBA Finals. In your fourth year. With no help. Boobie Gibson and Anderson Varajeo are there but, they're not there without you.
But then you run into a buzzsaw from San Antonio. An organization built on another rock, like you. Maybe the anti-you. But they have all the pieces to make it work. A GM with everything together. A coach that has a plan. Three All-Star, All-World players.
You lose. It's tough. But, hey. The Finals after year 4?! This is your destiny. The sky is still the limit.
Except things start to get difficult. For all of your raw talent and skills, you haven't gotten any better. You don't have a post game. You're not fully committed on the defensive end. You don't nail the game winners. And it starts to accumulate. Your team can't seem to find you a side kick. No Pippen, no Kobe, no Wade. It's just you.
And the teams around you are just gearing up and are ready to come at you. Boston builds up its Big 3 – Pierce gets KG and Ray Allen. 3 grizzly veterans who have been through everything the NBA has to throw at them. Suffering for years in Minnesota, sticking it out in Boston despite some terrible lows, being a consummate professional in Seattle and Milwaukee. They join up and everyone's pulling for them. And you're still fighting the battle by yourself. Kobe – gets Pau and Bynum. Dwight becomes a force of nature.
And, yet, people expect you to just mow them down.
You and Pierce engage in a Game 7 bloodbath and he barely edges you out. Then Dwight manages to beat you in the conference semis. The semis?! That's not your destiny. And then you mail it in in your last game as a Cav. You're distant and aloof. This team isn't going all the way and it's not there for you.
It's not easy anymore.
And the cries for you to get better are still there. But you're immature and you're young and you think, "This isn't about me. I'm the franchise. This is about teammates, this is about the GM. MJ never won alone. Magic had Kareem and Worthy and Byron Scott. Kobe had Shaq. Wade had Shaq. Duncan had Robinson. Duncan had Manu and Parker. Their teams put pieces around them. Where are my pieces? If they're not coming to me, I'll go to them."
So, you make a decision. You make The Decision. After years of speculation about your future from the media and fans, you give them what you think they want. You tell them to go to sleep and wake up when you make your announcement. You give them an hour long special. Jim Gray. The Boys and Girls Club. Money to charity.
Ugh, what a mistake.
This is where things really get difficult.
Up until this point, the criticism was there. But it was about your game. It was about unrealized potential. It was never about who you were as a person.
But this changed things. You became a villain. You made everything about you. You referred to yourself in the third person. You dragged things out. You said the actual phrase, "Take my talents to South Beach." You tore the heart of a city and its lovable fans. You became selfish. You became the bad guy.
Witness to Quitness. Comic Sans. But there ain't nothing funny about this.
But the thing is, that's in stark contrast to everything you've ever done on the floor. You play with love in your heart. You live to pass. To get everyone involved. To play fast and run. You play basketball the right way.
But, now, because of one stupid act people don't care. And all the things that you do on the court are filtered through the lens of you being a selfish, prima donna that's afraid of the moment and needed to run to his rivals in order to win.
Your ability to pass? It's because you have a bad jump shot. Finding an open teammate at the end of the game? Coward. Missing a game-winning shot? That's not a fluke. That's a referendum on your soul and your courage.
It's unfair. But you brought it on yourself.
And, instead of fixing things. You retreat further inward. You play with hate in your heart. You play angry.
And you lose. And, then you bottom out and tell everyone, "Yeah, I lost in the Finals. But I'm still Lebron and my life will be great tomorrow. Yours? Yours will still suck."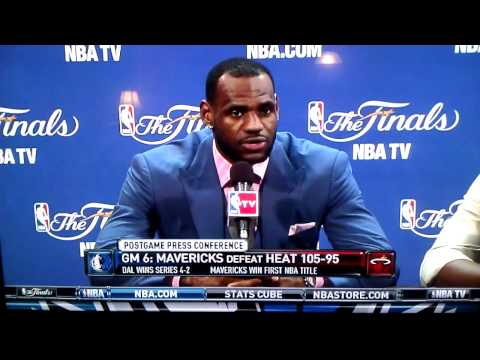 Something's gotta give. And, in the past, you thought it was something else. But now? Now you realize that it's you. You've got to change. You've got to be better. Whatever it takes. Forget what everyone else things. Buckle down with your guys and become better. Suffocate on defense. Get a post game. Work on your passing.
But, man, there's more to come. Durant and Westbrook have the national spotlight. Derrick Rose is beating you in your own conference. The Spurs look like a juggernaut. And there's still those damn Celtics. Now a Big 4. And they don't respect you. And they don't like you.
So the playoffs start. And you dispatch the Knicks. But then Indiana takes a game from you and Bosh goes out. And it starts.
Just like last year. Choke artists. But you and D-Wade gut through the series and you pull it out. But Boston goes up 3-2 on you. Wins 3 in a row. Has you on the ropes. The damn good job, good effort kid. Throwing salt in your wounds. Because we all know that it's not about your effort. Effort matters for normal people. But not for you. For you, only one things counts. And that's rings.
And you finally put it all together.
The performance that everyone has been waiting for. 45 points. Your team on your back. Big shot after big shot. Moment after moment. All there for you to take on big stage against a nemesis and you do it. Exorcise your demons.
And all that to get to a Game 7. Which makes you wonder, when is my great just good enough for everyone else?
Game 7 is yours and you're back to the Finals.
But no one cares. Because this is where you are meant to be. You're the Chosen One. You promised not one, not two, not three…yeah. See where this is going? The Finals are a given.
What have you got for us now?
In Game 1, you have nothing. 7 points in the 4th. Durant lights you up for 17. Thunder have won 4 straight and you're about to choke to another one of America's sweethearts.
But it doesn't happen. You continue your monster performances. 30 and 10 every night. It's automatic. It's not jaw-dropping because it's expected. It's what your team needs.
Game 4 comes to a close and you're a rebound away from a triple double. The only reason your team is in the game. You make an easy lay-up and hit the deck. A little bit of pain. Turnover on the other end and the ball back to you. Flat footed layup. Play through the pain. Except this is really bad.
Your body gives out on you. Your mind is there, but it's not.
Cramps.
You've got to be kidding. In a pivotal game. With the series hanging in the balance, you might miss the end. But you gut out one possession.
And you hit a dagger.
3 pointer, top of the key.
Good night, ghosts of last year. Good night, Kevin Durant. Good night, Sweet Prince.
It's the King's time.
The shot that everyone had been waiting for you to make your whole career. And you gave it to them.
Everything after that is an afterthought.
A thunderous dunk to start Game 5. A triple double in a close out game that had your opponents demoralized from the start. You've been there. You remember San Antonio. You remember the Decision. You remember Pierce and Game 7. You remember being up 2-1 against Dirk and the Mavs. You remember being frozen in Game 6 as the Mavs closed you out.
We all remember that.
"It's about damn time."
For you and us both.
***********
What's next for LeBron James might tell us more about us than it does about him.
As a basketball fan, I hope this opens the floodgates for him. I hope he continues to feel more comfortable in his own skin on the basketball court. I hope that he averages a triple double next season. As a basketball fan, watching him play over the last 7 games, from Game 6 of the Boston series onward, was just sublime. He did everything right. Maybe now he can play free and hit a level that no one else is capable of.
For us, I think the narrative has to shift. If it doesn't I think it reflects poorly on us all as sports fans. LBJ had the world given to him on a silver platter. Adoring fans in Cleveland. A franchise handed over to him. A management that appeared to try and do everything to keep him there (although, they never gave him the right pieces). He threw it away. Broke our spirit. Made us feel cheap and seem foolish for caring about athletes.
So we demanded he suffer (to the extent that a 20-something millionaire can suffer). And he did. Lived under a microscope for two years. Embarrassed in his first appearance on the biggest stage with his new super team. A villain in every arena around the country.
But he learned from it. It humbled him. Made him more mature. He showed growth.
In all other avenues of life, that is what we ask for and what we respect.
Why should he be any different?
So, yes, the narrative must shift.
Shane Battier made the point that no other athlete in the history of sports has lived under a microscope the way LeBron has:
He sneezes and it's a trending topic on Twitter. He is a fascinating study because he's really the first and most seminal sports figure in the information age, where everything he does is reported and dissected and second-guessed many times over and he handles everything with an amazing grace and patience that I don't know if other superstars from other areas would have been able to handle.
Bill Simmons built off of that idea:
Earlier, we mentioned jockosopher Battier's point that LeBron ushered in the information age, and that "everything (LeBron) does is reported and dissected and second-guessed many times over." My first reaction was to say, "Well, you could describe a handful of athletes like that, right?" Even JaVale McGee has been dissected by more people in 2012 than, say, Dave Cowens in 1977. But of our modern superstars, only LeBron and Tiger could say they were "dissected" for their entire professional careers. Tom Brady was a no-name sixth-round pick for 18 months. Kobe averaged 15.5 minutes per game as a rookie and never had to worry about carrying the Lakers until after he drove Shaq out of Los Angeles they traded Shaq to Miami. But Tiger and LeBron became TIGER and LEBRON as teenagers; their experiences with suffocating fame/attention/notoriety had less in common with fellow athletes and more in common with Miley Cyrus, Britney Spears, Lindsay Lohan and Amanda Bynes. Is that a good thing? If anything, you could argue that LeBron has handled that fishbowl exceedingly well — certainly better than Tiger and Lindsay did — which was Battier's overarching point.
To me, the narrative has always been the most interesting part of this whole situation. I remember being appalled by The Decision, lusting for blood during LeBron's first game back in Cleveland, and gleeful when the Mavs knocked off the Heat.
But after that happened, I reset completely. I thought, "This guy has been through it now. I want him to put it all together next season. To grow from this. To really become the best player in basketball and shut everyone up." Other people had that same moment later on. Probably when he finally stepped up in the Boston series. Most everyone else still hates the guy.
As a culture, we've become increasingly obsessed with over-analyzing momentary actions and extrapolating them to have larger meaning for the overall narrative. There's a real tension brought about by our need to see the big picture and the ability to provide up to the minute commentary.
That tension has real costs. We're told that the narrative, the grind, the struggle are what's really important. But we judge people on moments. You're either the best or the worst based on what you've done most recently. It's frightening, but it's the pace of things.
Our technology has also given us the opportunity to peer into places that we've never seen before. And with that ability also comes our ability to judge situations that we never would have been privy too. We see what other people have done and we instantly wonder how we would have dealt with things. We project our own thoughts onto situations that we really don't have the faintest clue about. LeBron had a triple double in the Finals? Big deal, that's what he should do. If I was that good, I'd do the same thing. He hit a game winning shot? Finally. But he's still a choke artist. Let's see what he does next time. In some ways, we've become a nation of commenters.
Here's to hoping that, as basketball fans, we can all actually enjoy the performance that the best basketball player in the world put on this post-season. And let's hope that he can enjoy it, too.
God, I love the NBA.
If you've made it all the way here, I hope you go check out a website I made: www.WTFLBJ.com. It's pretty self-explanatory.